I am very much for doing my bit for the environment at home and in work.
My electricity supplier is 100% renewable and I try and do everything digitally including invoicing so no need for paper.
The hosting company I personally use for my websites and offer my customers also uses 100% renewable energy at their data centers and an environmental management policy externally assessed to ISO 14001 standards.
This is verified by The Green Web Foundation this is a not-for-profit organisation showing users which websites are green and building up a database of Green Hosting companies.
If you are interested in having you website hosted by a Green Hosting company in the UK then please get in touch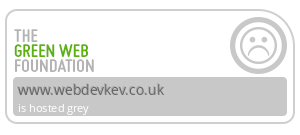 I am always looking for anything that can be beneficial environmentally and as an when I improve something I will add it here.